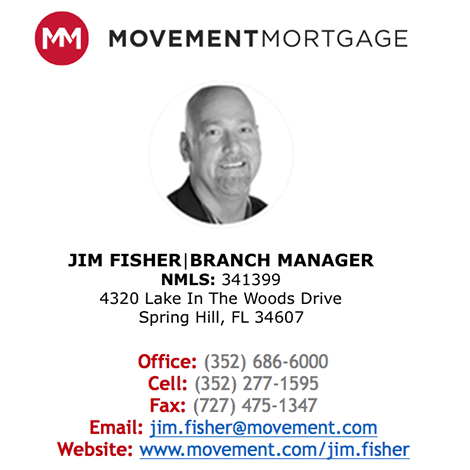 About Movement
Movement has grown from a small team of 4 to over 4,000 employees with more than 650 locations across 47 states. Inc. Magazine recognized Movement Mortgage as the fastest-growing mortgage bank in the country. Our vision is to serve 1 out of every 10 homebuyers in the country by 2025 and over 75 percent of our loans are processed in just 7 business days. We are passionate about every member of our team thriving personally & professionally. Close to 70 percent of our team contribute to the Love Works fund. The fund acts as a source of financial support for employees & their families in times of crisis. We have also reinvested over $25.8 million in our communities throughout the Movement Foundation.
Our Mission
We exist to love and value people by leading a Movement of Change in our Industry, corporate cultures, and communities.
About Jim
Jim has been serving the Tampa Bay Area for residential mortgages for the last 33+ years. Over the course of those years he has arranged financing for over 6,000 families. Please use Jim's wealth of experience to make your buying needs come true.
"What a fantastic job on my loan! The whole process exceeded my expectations."– Sam F.
"Thanks Jim we really appreciate how smooth the process went, thanks to you!"– Nick G.
"Jim & his staff made my dreams come true when they closed my loan in 15 days from start to finish!"– Jevonne M.